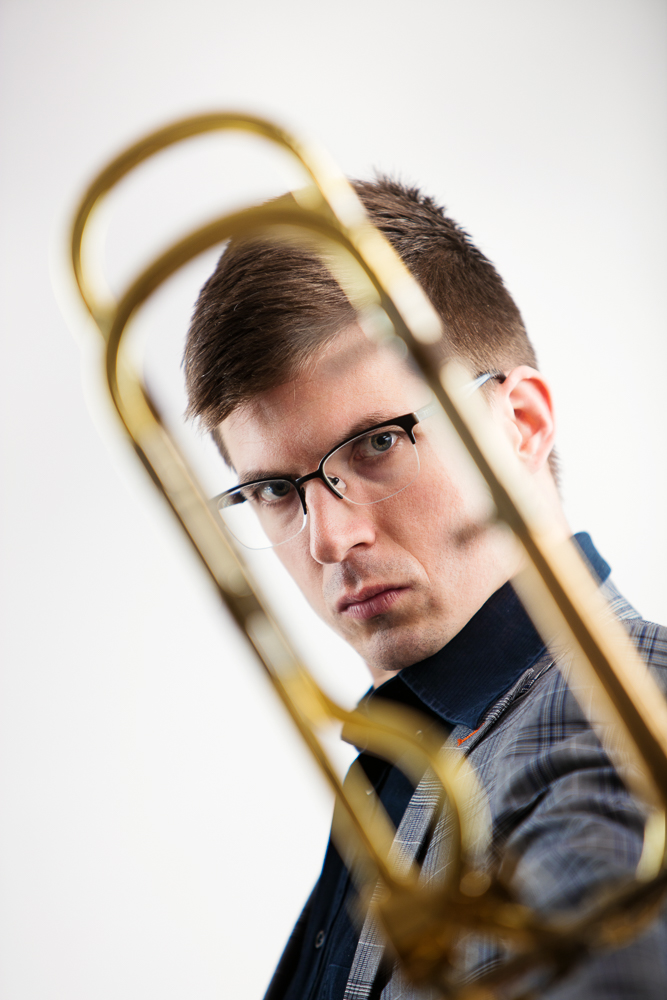 The trombonist, accordionist and composer Alois Eberl was born in Kitzbühel in 1986, where he grew up surrounded by Austrian folk music and classical music. He started playing music together with his father and in the local marching band. At the age of 14, he continued his previous classical training in trombone and accordion at the Tyrolean Music Conservatory and there he discovered his passion for jazz and improvised music. In 2009 Alois completed his studies in Jazz Trombone and classical accordion at the Anton Bruckner University in Linz. Further in 2012 he completed his bachelor´s degree and in 2016 his master´s degree in classical trombone at the Mozarteum University in Salzburg.
Together with cellist, pianist and composer Anna Lang, he founded the duo Sinfonia de Carnaval. Inspired by the expressive tonal discours of Jazz and using different elements of Classical music, Rock and Funk, the duo creates a sonic universe out of the whole soundspectrum of their instruments, which is sometimes also mixed with electronic sounds.
He also did musical collaborations together with Ray Anderson, James Morrison, Bob Mintzer, Michel Camilo, Wycliffe Gordon, Chuck Findley, Jure Pukl, Dave Taylor, Gary Smulyan, Dave Liebman, Thomas Gansch, Martin Grubinger, just to name a few.
Alois is also member of Echoboomer, OrJazztra Vienna, Kammerer OrKöster, Ensemble 013 (Jedermann – Salzburg Festival), Barry Good, Manu Delago Ensemble, Pannonica, Sugar Daisy´s Hotclub, CCJOP, Bull Horns, Heavy Tuba, Synesthetic Octet, Aufmessers Schneide.
Alois received the Jazz Award of Innsbruck 2022.